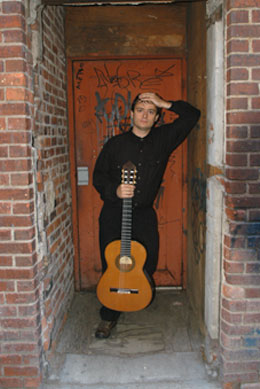 Rusty Banks, Guitar/Composer/Conductor
Rusty Banks (b. 1974) is a composer, guitarist, conductor and teacher from Jasper, AL, now residing in Lincoln, NE. As a composer he has been commissioned by performers and groups across the country, such as the Third Chair Chamber Players (a group he went on to conduct afterwards), Michael Patilla, and the Nebraska Wesleyan University Wind Ensemble, to name a few. He may be heard on Living Artist Recordings as well as his website (rustybanks.org).
As a guitarist he is an often called upon interpreter of new music, as well as a prolific chamber musician. He most often concertizes with Betsy Bobenhouse as half of Duo Primo (flute and guitar). As a conductor he has directed the Third Chair Chamber Players on very new works, as well as classic modernist pieces such as Varese's Octandre, and Stravinsky's Octet. He has also been guest-conductor of the Nebraska Wesleyan University Wind Ensemble, and served as the Interim Director of Jazz Ensemble at Doane College.
As a teacher, Rusty maintains a massive guitar studio made up of private students as well as students taking applied guitar at Doane College, where he also teaches Music Theory. Rusty Banks also speaks to the community on behalf of the progressive arts through public radio, educational outreach programs and roundtable discussions. Recent accomplishments this summer and fall include winning the 2004 Alabama MTNA commissioning competition, completing his M.M. Composition Degree from Florida State University, and changing the oil in both vehicles.


Click the link to listen to a sample of Rusty's music: Suede.mp3