New Music Agency cellist Diana Frazier received her Masters Degree from the University of Wyoming, and she suggested this past fall that we make a journey to Laramie and perform a concert. We had several pieces worked up from recent concerts that we wanted to perform again, so we said, "Great!". Nearly everyone in the group was able to make the trip out to Wyoming (our trombonist, Scott Anderson had just recently become a new father - congratulations! - and took a pass).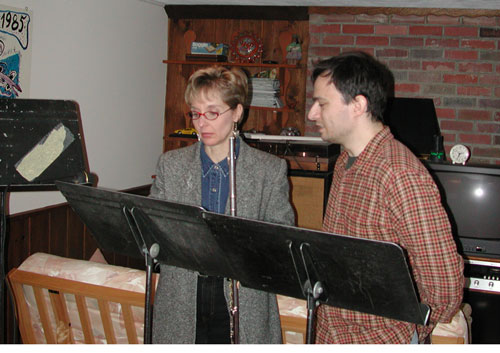 Betsy and Rusty rehearsing prior to the run-out
On March 26 we loaded up two vans with musicians, small children and equipment and headed down I-80. The drive out was uneventful and included a side trip to Cabela's in Sidney. Because accomodations were tight in Laramie, we spent the first night in nearby Cheyenne.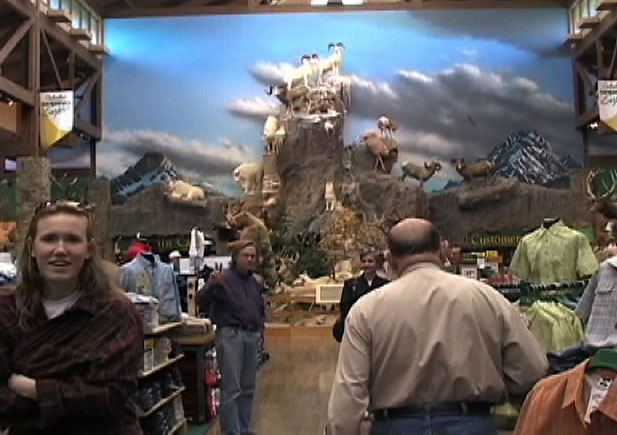 Great shopping at Cabela's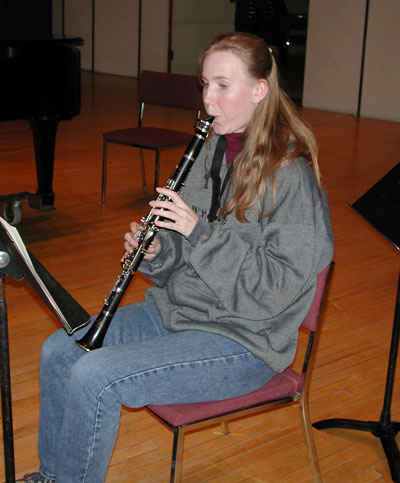 Christy rehearsing at the Laramie Fine Arts Center Concert Hall
Western Nebraska and Eastern Wyoming is quite beautiful. Laramie is also a cool town. There seems to be an interesting mix of the cowboy element, college students, outdoor enthusiasts and artists. The downtown area has many old buildings that have been restored and contain art galleries, coffee shops and restaurants. Really good restaurants.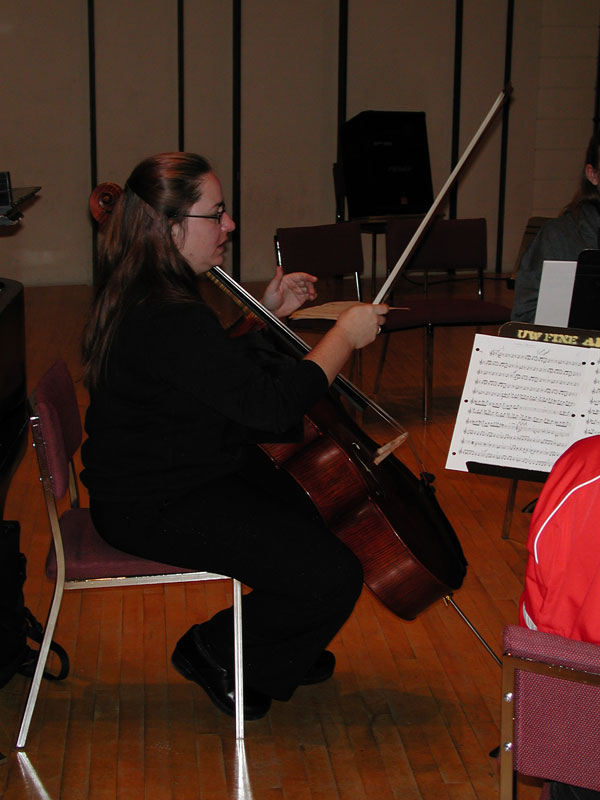 University of Wyoming alum Diana Frazier
The university facilities were terrific - the hall is a beautiful place to play, and the accoustics were excellent, not only to the musicians on stage but out in the audience as well.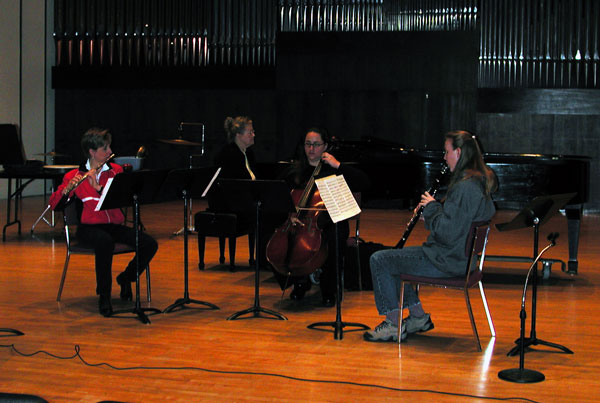 Rehearsing Kevin Hart's "Tetradance"
Playing at 7,200 feet really is different than playing in Lincoln. Reeds stiffened up over the course of the weekend. Also, breathing is a bit more difficult. The first trip carrying luggage up the stairs at the motel immediately made that apparent.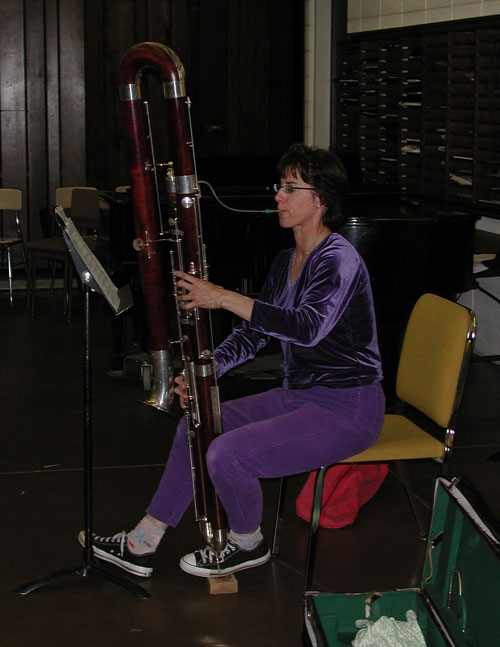 Karen getting acclimated to playing the contrabassoon at 7,200 feet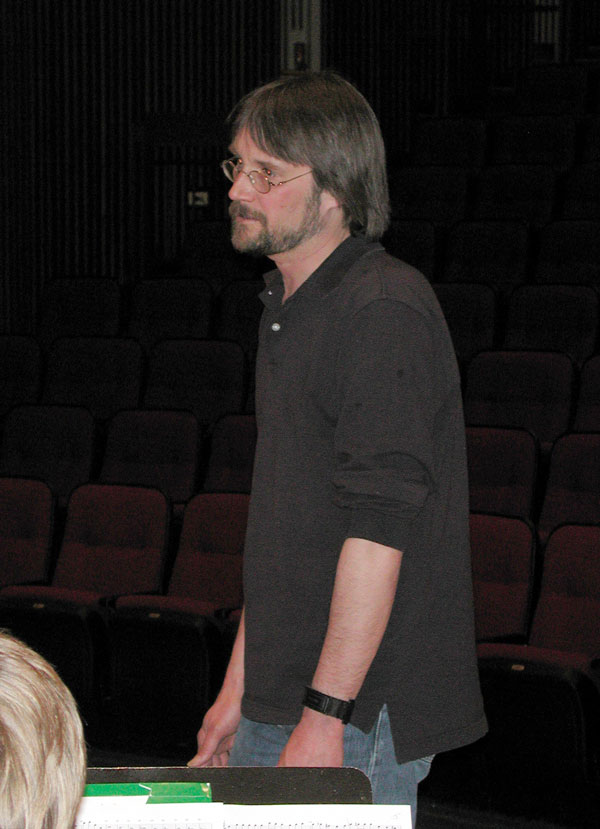 Our host, UW faculty member Kevin Hart
Our program for the March 28 concert included Steve Reich's
Music for Pieces of Wood
for 5 Sets of Claves, movements from Daniel Dorff's
In a Deep Funk
for Unaccompanied Contrabassoon, Rusty Banks'
Long Pine Creek: New Year's Eve
for Flute, Clarinet, Guitar and Electronics, George Crumb's
Mundus Canis
for Guitar and Percussion, Shulamit Ran's
Private Game
for Clarinet and Cello, and the premiere of
Tetradance
by Kevin Hart. The concert was very well received, and composition students from UW had the chance to speak with the performers after the performance.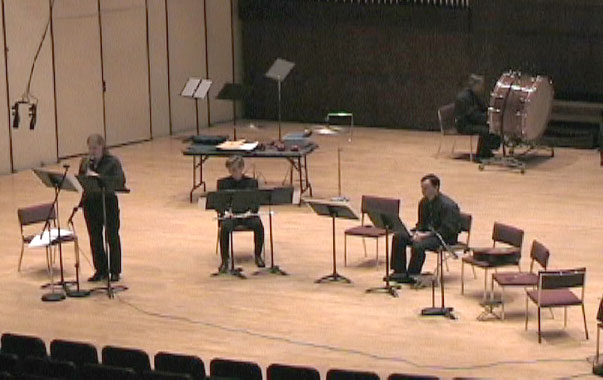 Performance of "New Year's Day: Long Pine Creek"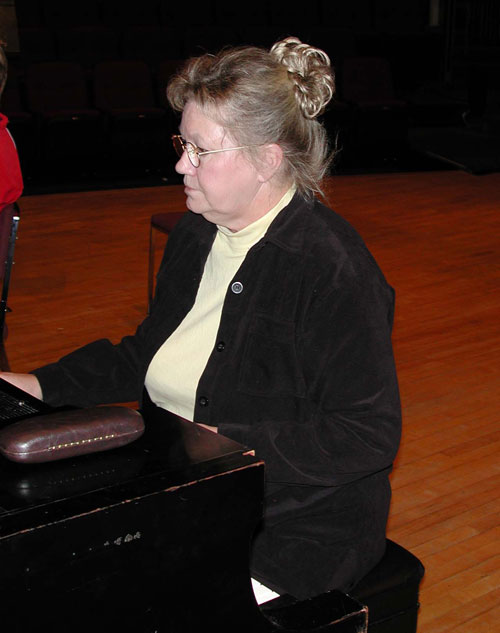 Pianist Joan Kucera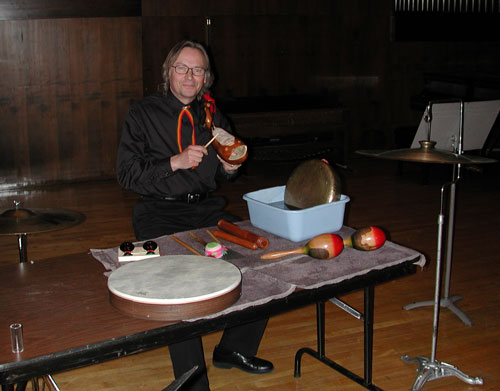 Joe getting set up prior to our performance
The run-out to Laramie was a great step for the Agency. Taking contemporary music to other communities in the region is one of our goals, and as we found out in Laramie, there *is* an enthusiastic audience for new music. We hope to do a lot more touring in the near future.
k.s.