New Music Agency Sound/Video Clips


(If you don't have Quick-Time, you can at least
Look!
at the pictures.)


Wall of Snyder
10/25/09



Left:
Dress rehearsal of Randall Snyder's "Water Music Revisited.





Right:
Randall Snyder performing a portion of his composition "Episodes" for Alto Sax.





Glancing Back, Spinning Forward 12/29/07

Clip 1: Jessica Lindsey performing Rusty Banks' "Dance of the Wallflower"

Clip 2: Joe Holmquist's rendition of Tristan Fuentes' "Spinngewebe"

Clip 3: Karen Sandene (bsn) and Heidi Huenefeld (hp) performing Robert Rønnes' "Reflexion"




Night of the Living Composers V
11/03/07



Left:
Jessica Lindsey performing "Rock Star" by Eric Schwartz


Right:
Joe Holmquist premiering a movement of
Randy Snyder's "Vibraphone Studies"









First Friday Gallery Walk
"Soundcheck Concert", 10/07/05



Left: "Quick-Time" clip of
Betsy Bobenhouse and Joe Holmquist
performing "Seraglio" by Michael Isaacson



Right:
Joe, Betsy and Karen Sandene performing
Tristan Fuentes' "Samba loca"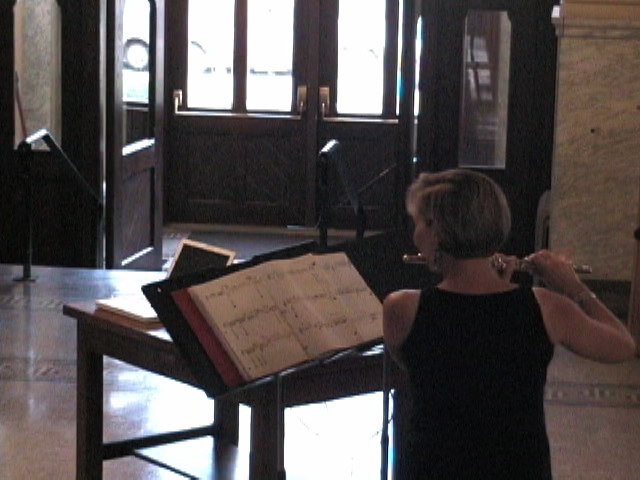 First Friday Gallery Walk "Soundcheck Concert"
09/02/05

"Quick-Time" clip of
Betsy Bobenhouse performing
"Lookout" by Robert Dick




"Quick-Time" clips from "Local, Late-Breaking", 4/2/05
Click on the pictures to view the movies. Almost as good as being there!
Karen and Joe premiering


Randy Snyder's
"Boogie On Contra Woman"
for Contrabassoon and Marimba




Christy performing
"Three Scenes for Clarinet"
by Shulamit Ran







Tristan Fuentes'
Más o menos
for Sequencer and Live Musicians
(pictured: Betsy, Rusty, Karen, Christy)




Mitch Raftery
performs Rusty Banks' "Portrait of Detention"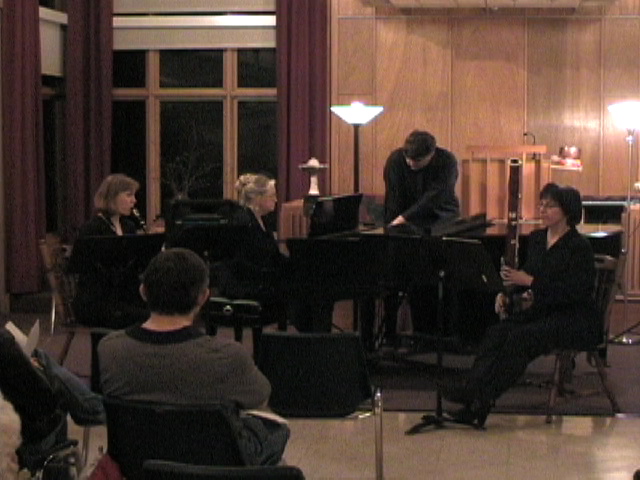 Christy, Karen, Joan and Mitch
on Rusty Banks'
"Water Above
(Cahaba River, May 2004)"



AND: don't miss these other clips from the past!

"Quick-Time" clip of our 7/11/04 performance of John Steinmetz's "Fish Phase for Two Contrabassoons"
Karen Sandene and Jeff Campbell, Contrabassoons
CLICK HERE
"Quick-Time" clip of Rusty Banks, Guitar, performing a portion of

Charles Norman Mason's "Mirrors, Stones, and Cotton" on 6/26/04
CLICK HERE